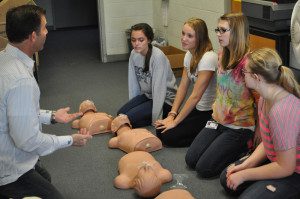 "Courage is a special kind of knowledge; the knowledge of how to fear what ought to be feared and how not to fear what ought not to be feared." 
– David Ben-Gurion 
Ben-Gurion's statement powerfully articulates the importance of understanding the 5 fears that stop people from providing bystander CPR in an emergency situation. Fighting these fears is essential for building the confidence a person needs to move from being a bystander who does nothing to a bystander who acts. Like the fears that Ben-Gurion faces, the fears that a bystander faces in an emergency are best fought with knowledge. The vital role that knowledge plays in creating confident rescuers in turn emphasizes the importance of creating student-centered CPR training.
While this may seem obvious, CPR training has historically emphasized control and consistency over student-centric learning. Tweaks to the intricate parts of CPR and large simplifications to the procedure have been focused on while the methods and tactics of how that knowledge is conveyed have been comparatively neglected.
The ProTrainings Student CPR program sees schools as a unique opportunity to not only reach a large pool of great potential rescuers but also as a favorable arena where there can be a balance of student-centric learning and consistent standards of education. The challenge in this is to create tools that can adapt to individual schools' varying policies, classroom norms, technological capabilities, resources and time. While this will be a continuous journey, the program has already made great strides in this direction.
The tools:
1. Self-Paced Video Lecture
The primary tool in the effort to flip the classroom, videos give the student a front row seat and the control to pause, skip ahead and review at will. If assigned as homework, the teacher can conserve a significant amount of class time. This control empowers the students with ownership of their learning, and students who may have been absent are able to complete the unit.
For schools without the computers or bandwidth to support a 1 to 1 program or a computers at home, students are able to watch the videos as a group on a single screen.
2. Classroom Focus on Hands-on Component
The second part of flipping the classroom, the teacher's energies are focused on the manikin practice and testing portion of CPR training. Students are able to do co-operative practice (with other students) and then demonstrate their skills to a teacher.
Manikins are an expensive piece of equipment and, unfortunately, sometimes schools are not able to acquire them. In addition, schools may not have the time to train a teacher to an instructional level. They also might not have class time available to spend doing a formal skill evaluation with students. In any of these cases, schools are able to focus solely on meeting their state's requirements. Teachers are given a shorter training focused on "best practices" for assessing student skills and can use this to perform an informal, but nonetheless effective skills session with their students.
3. Immediate Feedback and Remediation
Students benefit from timely feedback. Within an online course, they have the benefit of both immediate and personal feedback. As students watch videos, they are asked pretest questions that force them to recall the main points. If a student answers a question incorrectly, they are told why that answer is incorrect and receive clarification on the concept that the student might be confused about. During the final test, the student receives the same remediation, but is also encouraged to re-watch the videos surrounding the concepts covered in the questions they answered incorrectly.
4. Removal of the CPR Orphan Period
Repetition is often necessary for mastery. The subject of CPR faces a unique problem in that the education occurs only once every 2 years and primarily needs to be recalled in extremely stressful and time sensitive situations. Instead of being 'orphaned' between certification cycles, students are able to choose to receive an email once a week, which contains a single lesson from the course they took.