There is a growing trend as more and more states are recognizing that CPR is not only an extremely valuable skill, but should also be made mandatory for students to learn before they can graduate from high school. There are bills in many states that are in various stages of implementation. Bring the free CPR program to your school Want your school to take part in the Student CPR program? Submit Your School!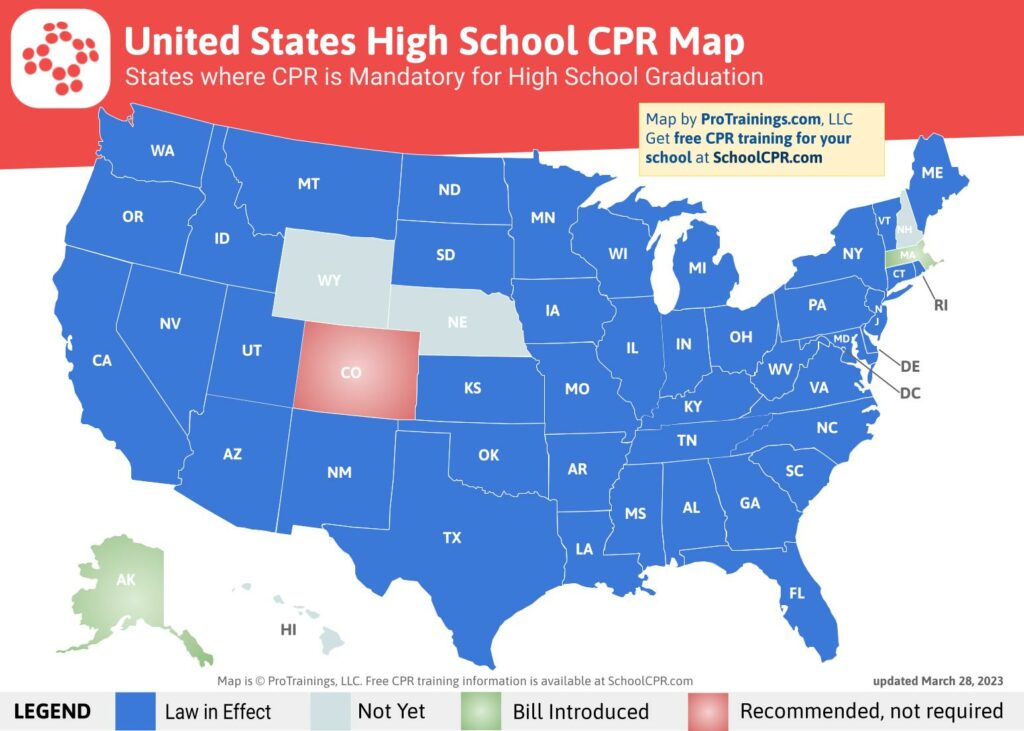 States where CPR training is mandatory for high school graduation:
* In Illinois, this law requires mandatory CPR/AED training in all Illinois high schools prior to graduation, excluding when a parent or guardian submits written objection to CPR/AED training..
** In Indiana, students are required to take the training, but schools can get waivers to opt-out. (Indiana: We offer it for free, don't opt out!)
Other recent CPR related laws.
Colorado (HB 14-1276 – Signed May 16, 2014) **
North Dakota (SB 2238 – Approved April 18, 2013) ***
** Colorado passed with a recommendation for CPR training, but training is not yet mandatory.
*** In North Dakota, state funding for CPR training is available, but training is not yet mandatory.
**** Although it may already mandatory in South Dakota, another bill would also allow for Hands-Only.
Known states where bills have been introduced (as of March 15, 2023):
Alaska (SB 43 – If passes, effective June 30, 2024)
Massachusetts (H.492 – Referred to Joint Committee on Education)
States where we haven't found any bills relating to CPR in High Schools. Or where there were bills, but were not passed and no new bills have yet been proposed. (Last updated March 15, 2023)
New Hampshire (SB 523, 2018 – bill killed)
Wyoming (SF 82 failed in 2017)
Help us keep up-to-date on state CPR laws!
If we're missing any states where bills are being introduced, please let us know with this form:
Bring the Free CPR training to your school
Want your school to take part in the Student CPR program? Submit Your School!
We make every attempt to ensure the accuracy of our research regarding cardiopulmonary resuscitation (CPR) training laws in each state across the country, however, with laws varying from state-to-state and even on a local basis, as you might imagine, staying abreast of constant changes is a very challenging process. As such, it's important to note that our findings should be used for informational purposes only and that any specific CPR laws or CPR requirements for your CPR program should be developed between you and your legal counsel. If you have any suggestions, information, or tips on new or pending CPR training legislation that you feel might help improve our CPR requirement pages, please contact us to let us know! By spreading knowledge about how to build and manage legally compliant CPR programs, we hope to improve survival rates from sudden cardiac arrest.