There is a growing trend as more and more states are recognizing that CPR is not only an extremely valuable skill, but should also be made mandatory for students to learn before they can graduate from high school. There are bills in many states that are in various stages of implementation. Bring the free CPR program to your school Want your school to take part in the Student CPR program? Submit Your School!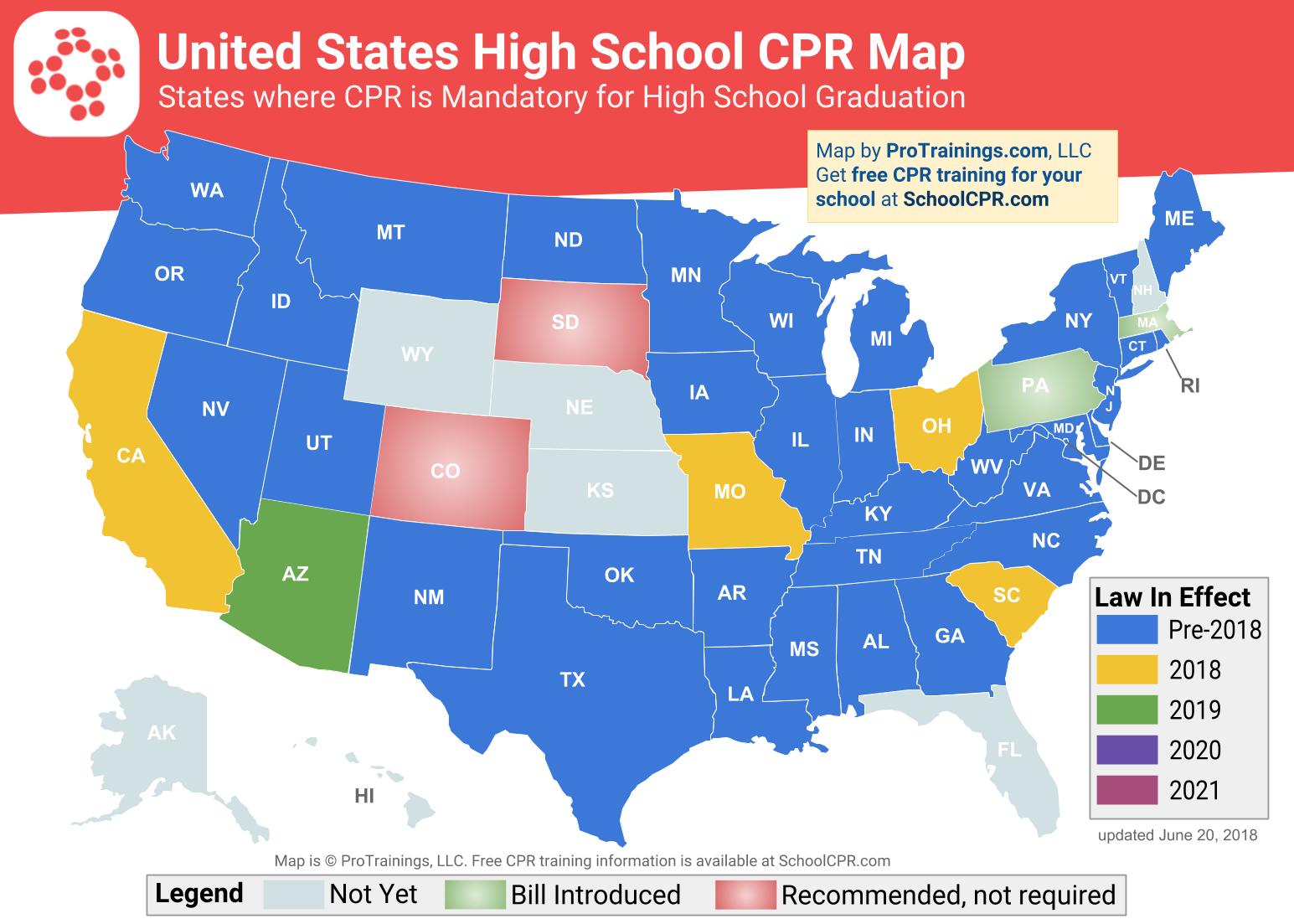 Here are states where it is currently mandatory:
* In Illinois, this law requires mandatory CPR/AED training in all Illinois high schools prior to graduation, excluding when a parent or guardian submits written objection to CPR/AED training..
** In Indiana, students are required to take the training, but schools can get waivers to opt out. (Indiana: We offer it for free, don't opt out!)
*** In Maryland it may not be required to graduate high school. There are conflicting stories about this everywhere.
Other recent CPR related laws.
Arizona (SB 1337,

SB1162

) *
Colorado (HB 14-1276 – Signed May 16, 2014) **
North Dakota (SB 2238 – Approved April 18, 2013) ***
* Senate Bill 1337 outlines regulations schools must follow if they provide CPR training, but it does not require schools to provide that training. It merely allows for it to occur.
** Colorado passed with a recommendation for CPR training, but training is not yet mandatory.
*** In North Dakota, state funding for CPR training is available, but training is not yet mandatory.
**** Although it may already mandatory in South Dakota, another bill would also allow for Hands-Only.
Known states where bills have been introduced (as of June 20, 2017):
Massachusetts (H.3733)
States where we haven't found any bills relating to CPR in High Schools. Or where there were bills, but were not passed and no new bills have yet been proposed. (Last updated June 20, 2017)
Alaska
Florida (Attempt in 2013 failed. SB 302 Attempt in 2015 failed. HB1311) (Florida: Let's talk. Our training is free!)
Kansas
New Hampshire (HB 501 (2011 session) "Inexpedient to Legislate: MA VV; HJ 26, PG.707")
Wyoming (SF 82 failed in 2017)
Help us keep up-to-date on state CPR laws!
If we're missing any states where bills are being introduced, please let us know with this form:
Bring the Free CPR training to your school
Want your school to take part in the Student CPR program? Submit Your School!