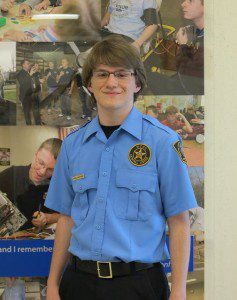 Paul Watson, a junior at Franklin high school, is an aspiring public safety figure.  When Watson heard his mother scream upstairs, he raced up to find out what was wrong and found his father unconscious on the kitchen floor. Watson is part of the Warren Country Criminal Justice program, where he was trained in CPR and emergency response.
"We had to stay calm," Watson said. "I kept up the chest compressions, and the lady on 911 said to only do those, not the breathing." He continued compressions until emergency services arrived. He credits his quick thinking to his recent training at WCCC. "The heart doctor said that without CPR, my dad would have died," Watson said. "My dad is doing well and now out of the hospital."
The young hero said that that he, along with the other students, participated in practice drills so they would be ready to respond to any emergency. He didn't think he'd use the skills at home.
"I believe that this unfortunate event had a positive outcome, because Paul Watson paid attention in class and was able to replicate his training under extreme stress,"  instructor Jeff Piper noted. "Because of his calm demeanor and immediate action Mr. Watson, Paul's father, is alive today."
Watson isn't 100% of what career he wants to follow, but one thing he knows for sure: "I want to help people."
All of the students who attend Watson's high school take part in a CPR program directed by the school nurse, Sharon Moeller. "Everyone should know CPR/AED and First Aid in case they are somewhere and an emergency arises," Moeller says. "It is important to know for home and in the workplace."
Her words are true for Paul Watson, who's father lived because of his actions.
Do you want your student equipped with this lifesaving skill? Submit your school for our free CPR program.
Source: Dayton Daily News