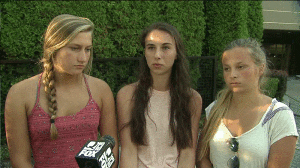 Three teenage girls noticed a paddle board floating on lake, and floating next to it, a man face down in the water. Jessie Page, Zoe Farrell, and Alexis Koester  jumped into the water and swam over to the man, unaware of whether he was alive. They thought he might have been floating for fun, but when they saw him face-down, they knew something more serious was going on.
"I tapped him and we got no response, so we flipped him over and got him up on his board," said Koester. The man coughed a little, but showed no other signs of reviving. The girls pushed the board to the dock, where their friends helped lift the man onto the dock.
One of their friends, Erica Stewart, had already called 911, but knew more was needed, and fast. She started administering CPR, a skill she had learned in health class at school. Stewart notes she could tell he had family from the ring on his hand and just wanted to get him home to them safely.
Sgt. Charlie Akers, King County's sheriff is proud of the girls and their quick action.  "They were CPR-trained, they took immediate action and if this gentleman survives, and we hope and pray that he does, it will be thanks to these young people," he says.
Koester says, "It's good to know we were able to help. Obviously, we wish we could have done more, but we did everything we could."
The girls said they never thought this kind of thing would happen to them. Anyone could be in a life or death situation, but thanks to lifesaving skills such as CPR, the chance of the situation ending well is much higher. You can submit your school to learn CPR here. It's a free program for high school students.
Source: Q13FOX.com