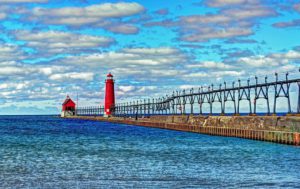 Peter Lombardo, 17, had just got out of gym class, went to the locker room and collapsed. His heart was pumping really fast, but he thought it was normal because he had just been running sprints. He had no pulse, no heartbeat, and was turning blue.
Teacher Phil Miedema and athletic trainer Brett Knoop jumped into action. Knoop administered CPR while Miedema ran to grab one of the six Automated External Defibrilators they have around Caledonia High School for emergencies such as this.
Within two minutes of collapsing, Peter was successfully shocked back to life.
Peter Lombardo is grateful to be alive, though a little sore. He recognizes the need for AEDs and training to use them. He also gives a lot of credit to the Wes Leonard Heart Team for raising awareness of the importance of AEDs in schools. One of Caledonia's AEDs was donated by them.
"You hear about the Wes Leonard story. You hear about stuff they're doing like that and think, 'Hey great.' You know, but until I'm in the situation, it's beyond important to have them trained and have them in the schools," Lombardo said.
As for the teachers, they say they were just doing their job, part of which is teaching how to use AEDs. "I don't think we're heroes. For me a hero is the people who put a uniform on each and every day put their lives on the line to protect us… We were just doing our job," Knoop said.
If you're looking for free CPR training for your school, we have it available.