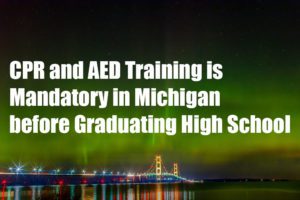 We're very excited to announce that the law has been signed to mandate CPR and defibrillator (AED) training before graduating from high school in Michigan.
The measure requires schools to provide instruction at least one time between grades seven and twelve. Schools can incorporate the training into their health classes to meet the requirement.
Our course meets and exceeds this requirement and can be incorporated at both an awareness level and certification level at no cost per student.
The bill was signed into law on December 28, 2016 by Lt. Gov. Brian Calley, as Gov. Rick Snyder is vacationing out of state.