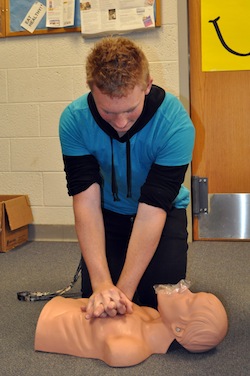 I've read SO many stories lately about high school students and their real-life encounters with CPR.
Two high school band students who saved a parade photographer's life after he collapsed while crossing a bridge.
A high school wrestler who stopped breathing during a workout and died shortly after because no one knew CPR.
A high school football player who collapsed on the sidelines of a game and was rushed to the hospital. 
High school coaches who know the importance of equipping their players with CPR and AED training and the players who agree with them.
High school staff members who performed CPR on a high school student who collapses during basketball practice. 
The list goes on and on…
Have YOU ever been in a situation that required CPR? Did you know what to do?
There is SUCH a need for the next generation to be trained and certified in this lifesaving skill. And this is where Student CPR comes in.
If you were in a situation like the ones mentioned above, would you know what to do?
To be sure that you do, register your school for our Free Student CPR program and maybe the next story I hear will be of YOU saving someone's life.
And if you already have stories to share, feel free to leave a message in the comments below or send us a shout out on twitter @StudentCPR. We'd love to hear from you!