There is a growing trend as more and more states are recognizing that CPR is not only an extremely valuable skill, but should also be made mandatory for students to learn before they can graduate from high school. There are bills in many states that are in various stages of implementation. Bring the free CPR program to your school Want your school to take part in the Student CPR program? Submit Your School!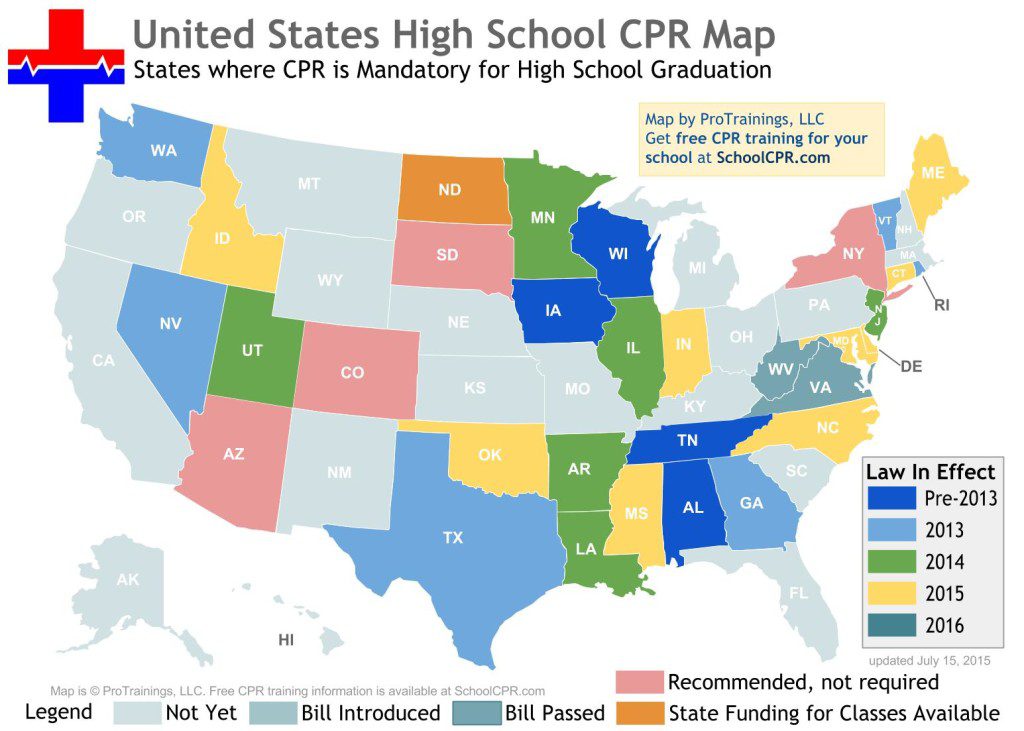 Here are states where it is currently mandatory:
Alabama (Acts 1983, No. 83-510, p. 719, §§1-4.)
Arkansas  (Act 1016 – Approved April 8, 2013)
Connecticut (Bill No. 962 – Signed June 23, 2015)
Delaware (Title 14 Education 1.1.3.4 – Effective no later than 2015-2016 school year – also HB 249 – Class of 2017)
Georgia (SB 212, HB 217)
Idaho (State DOE 08-0203-1306)
Iowa (SF 2425 "Healthy Kids Act")
Louisiana (HB 542 – Signed June 6, 2014)
Maine (HP0380 – Approved June 4, 2015)
Maryland (SB 503 "Breanna's Law" – Signed April 14, 2014) ***
Minnesota (HF 2506 – Signed April 23, 2012)
Mississippi (HB 432 – Signed March 31, 2014)
Nevada (AB 414 – Signed June 5, 2013) ****
New Jersey (A 2072 – Approved August 20, 2014)
North Carolina (HB 837 – Signed July 26, 2012)
Oklahoma (HB 1378 "Dustin Rhodes and Lindsay Steed CPR Training Act"- Signed May 16, 2014)
Rhode Island (SB 318, HB 5376 – Approved June 24, 2013)
Tennessee (HB 2086 – Enacted in 2002; HB 1519, SB 1680 "Carmen Burnette Act of 2012" – Signed March 13, 2012)
Utah (State DOE – Effective 2014-2015 school year)
Vermont (S 245 – Approved May 16, 2012)
Virginia (HB 2028, SB 986 – Approved March 18, 2013)
Washington (HB 1556 – Approved May 8, 2013; Effective date July 28, 2013)
West Virginia (Approved Feb. 24, 2015)
Wisconsin (AB 725, more – Signed May 10, 2010; Effective beginning with 2011-2012 school year)
* In Illinois, schools are required to offer training, students are not required to take it.
** In Indiana, students are required to take the training, but schools can get waivers to opt out. (Indiana: We offer it for free, don't opt out!)
*** In Maryland it may not be required to graduate high school. There are conflicting stories about this everywhere.
**** In Nevada, students must take the training, as long as funds are available. (Nevada: Let's talk. Our training is free!)
Other recent CPR related laws.
* Senate Bill 1337 outlines regulations schools must follow if they provide CPR training, but it does not require schools to provide that training. It merely allows for it to occur.
** Colorado passed with a recommendation for CPR training, but training is not yet mandatory.
*** In North Dakota, state funding for CPR training is available, but training is not yet mandatory.
**** Although it may already mandatory in South Dakota, another bill would also allow for Hands-Only.
Known states where bills have been introduced (as of January 6, 2016):
States where we haven't found any bills relating to CPR in High Schools. Or where there were bills, but were not passed and no new bills have yet been proposed. (Last updated August 25, 2014)
Alaska
California
Florida (Attempt in 2013 failed. SB 302)
Kansas
Massachusetts (Bills, oddly, replaced by legislation for coaches only: S 1918. H 416, S 266)
Missouri (HB 1337, "Placed on Informal Calendar – SCS/SS/SCS PENDING")
Montana
New Hampshire (HB 501 (2011 session) "Inexpedient to Legislate: MA VV; HJ 26, PG.707")
New Mexico
Wyoming
Help us keep this up-to-date!
If we're missing any states where bills are being introduced, please let us know with this form:
Bring the program to your school
Want your school to take part in the Student CPR program? Submit Your School!